You want to be sure that EXIF location data is removed from photos your share through social media. The problem is you can't rely on social media to automatically remove location data from photos you post online. Here's what to do instead.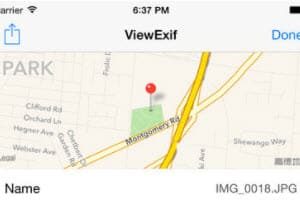 Currently Facebook automatically strips out the EXIF information (that contains location coordinates) from uploaded photos. They do this for privacy reasons. They also strip out the IPTC information that professional photographers insert (eg on your wedding photos). Twitter also do this, and Instagram to an extent, but some other social media don't. The situation may change in the future as the automatic removal of EXIF data from photos by Facebook has been successfully challenged under copyright law.
If you want to strip the information manually, eg before posting or emailing, you can flip the switch in your camera settings or use an online service from your browser or download software to your computer to batch delete EXIF information. If you google "batch remove exif data" you'll be able to select an app that suits you. They are generally quicker and easier to use than a full graphics software program. If you're using your phone, go to the app store and search for "exif" to find apps that will quickly delete the information. ViewExif is a good one.
Here's a brief article on removing EXIF data from an iphone.
Note: removing EXIF information does not mean the location of a photo you post cannot be found. There are other ways in which your location can be discovered from a photo.